August 01, 2023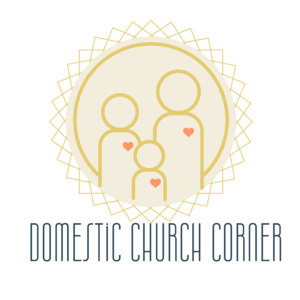 "The family, is so to speak, the domestic church." This comes to us from Vatican II (Lumen Gentium #11) and means it's in the family that we first learn about who God is and what love is. St John Chrysostom called a family home a "little church" and encouraged parents to "make your home a church in order to put the devil to flight". As we can see, the family has a special role to play in the spiritual development of its members. Lumen Gentium #11 goes on to say: "parents should, by their word and example, be the first preachers of the faith to their children." The Catechism of the Catholic Church No. 1666 also tells us that "The Christian home is the place where children receive the first proclamation of the faith. For this reason the family home is rightly called 'the domestic church,' a community of grace and prayer, a school of human virtues and of Christian charity."
That's a huge job to take on as a parent, especially when you are already changing diapers, saving for college, walking around sleep-deprived, and carpooling hundreds of miles a week. But all the same, it's what future Catholic parents consent to on the day of their marriage. "Are you prepared to accept children lovingly from God and to bring them up according to the law of Christ and his Church?" The bride and groom would have responded "I am" on the day of their wedding. (The Order of Celebrating Matrimony #60) You might be throwing your hands up and yelling "HELP, we can't do it on our own!". Take a deep breath and know for certain that you CAN'T do it on your own, but with God all things are possible. There are so many Catholic family resources available these days and we plan to bring you information in the Domestic Church Corner. Just remember the most important thing to do is….PRAY! God loves our children more than we ever could, so ask God, our Father, to show you the way to make your family the Domestic Church. This year, we'll focus on praying as a family. Let's get started with meals.
Prayer Before Meals
We all eat three times a day (at least), so why not take this opportunity to begin to pray as a family. Giving thanks for our food and asking for God's blessing has its' roots in ancient Judaism. The Jews gave thanks for both the food on their tables and for the land that God gave them. Back in Deuteronomy 8:10, Moses tells the Israelites "But when you have eaten and are satisfied, you must bless the LORD, your God, for the good land he has given you." A family's survival depended upon the bounty of the land for both growing crops and grazing livestock.
We also have the example of Jesus who prayed over the bread and wine of the Last Supper and over the loaves and fish before multiplying them. Jesus modeled thanksgiving for the food we receive and so His Apostles and the early Christians continued to pray over their meals. Tertullian, one of the early Church Fathers, wrote that "it becomes believers not to take food … before interposing a prayer; for the refreshments and nourishments of the spirit are to be held prior to those of the flesh, and things heavenly prior to things earthly" (On Prayer, Chapter 25).
Our familiar prayer before meals comes to us from back in the eighth century in a liturgical book called the Gelasian Sacramentary:
"Bless us, O Lord, and these, thy gifts, which we are about to receive from thy bounty, through Christ our Lord, Amen."
And by the way, it's often called "saying grace" because grace comes from the Latin word gratia, which means thankful. This little prayer is mighty, it asks for God's blessing on all gathered for the meal, it asks for God's blessing on our food, it thanks God for His gift of nourishment and acknowledges that absolutely everything we have comes from God.
Praying together as a family before meals lets parents witness to their dependence on God for everything. An added family meal conversation topic can also be one thing each person at the table is grateful for in their day. This helps children to see that God provides for their needs and builds gratitude in all things.
Lastly, when we go out to eat as families, praying before our meals gives a witness to others in the restaurant that we know who provides for us and that we owe Him our gratitude, always.
---
Written by: Birgit Hacker
More News...
August 30, 2023
Our St. Vincent de Paul (SVdP) Ministry here at SMOY helps our local neighbors in need by paying...Read more
May 24, 2023
Did you know our parish has a reliquary? You might be wondering what is a reliquary? A reliquary...Read more