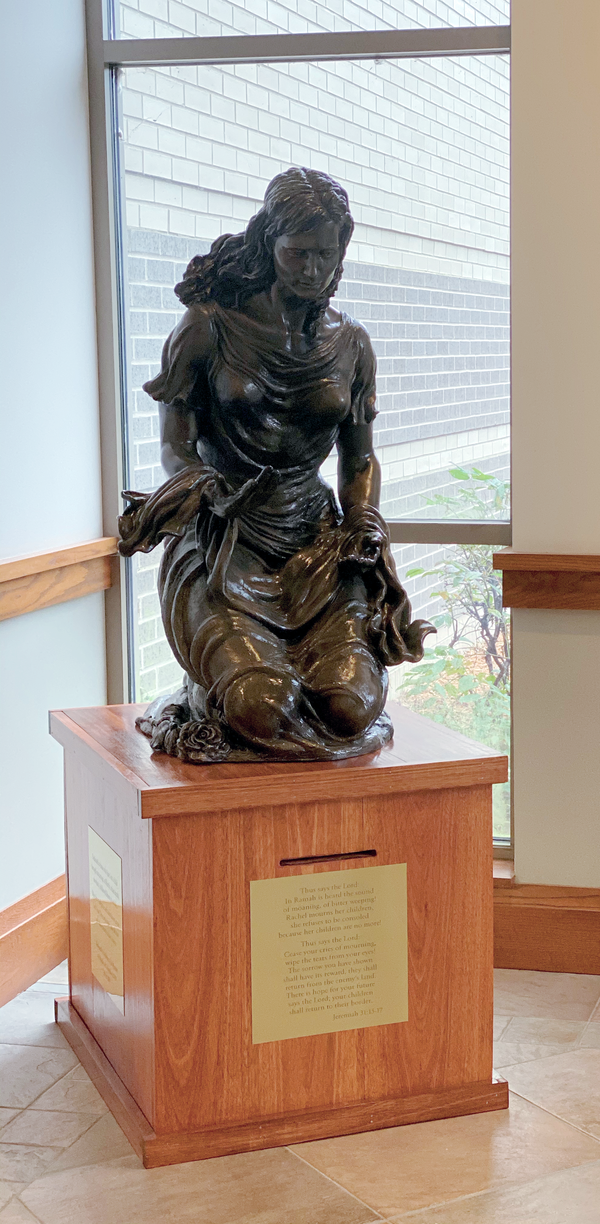 The Weeping Rachel statue is most commonly used as a memorial for children lost to abortion. From the beginning in 2014, the Rachel statue stood for much more than a memorial for aborted children... she stands for losses incurred through miscarriage, stillbirth, infant or childhood death, suicide and abortion. The Weeping Rachel statue stands as a visible sign of the grief experienced due to a loss and yet the hope that we hold on to as we look forward to the heavenly reunion with our loved ones.
An anonymous donor purchased the statue for our parish and was dedicated and blessed by Fr. Jan Schmidt on January 24, 2015, in conjunction with the anniversary of Roe v. Wade. Originally, the statue was planned to be placed in an outside location, but the decision was changed and it has been kept inside.
Since 2015, she has sat unfinished but not forgotten n a corner near the Eucharistic Chapel. Fortunately, this summer work began complete the statue with a base and plaques inscribed with Jeremiah 31:15-17 and a dedication plaque which reads: "Dedicated to those who have lost a child through miscarriage, stillbirth, infant death, abortion, childhood illness or suicide. May they find peace and consolation in our Lord Jesus Christ who wipes away all tear and whose mercy endures forever." As a parish we are grateful that Rachel will finally be completed.
Included in the base of the statue there is a small slot that men and women can place letters to their children that they have lost. It is our great hope that Rachel will be identified with those who have experienced loss but also a sign of hope.
On the weekend of October 13th Fr. Bedel blessed the statue at the 9:00am Mass and the statue has taken a permanent place in our parish.
More News...
November 01, 2023
When you hear the word angel, does a chubby-faced little cherub come to mind or...Read more
October 30, 2023
Mike Ott, who has been the Business Manager at St. Margaret of York since 2012, and a parishioner...Read more